Bandai Namco Entertainment's Dragon Ball FighterZ brings Dragon Ball Z to the world of competitive fighters. The developer behind the game, Arc System Works, is well-known and respected for it's high-quality BlazBlue and Guilty Gear franchises of fighting games and that aspect has been talked about much at last week's Electronic Entertainment Expo (E3). However that isn't the only thing Arc System Works has been focusing on with Dragon Ball FighterZ. The developer is also drawing inspiration from the source material – Akira Toriyama's Dragon Ball manga. Not just by using the characters and ultimate attacks, but also replicating other attacks and stances seen in the manga as well, with accuracy.
With a keen eye, Twitter user mizumaki_7 was able to notice Arc System Works' attention to detail. They compiled many images showing a comparison between the game and manga panels. If we have counted correctly, there are over 50 comparisons shown between the game and manga. It's worth noting all these are just from the demo and trailer that was shown at E3. Meaning, these 50+ images of comparison are just of the six confirmed playable characters thus far – Goku, Vegeta, Teen Gohan, Majin Buu, Cell, and Frieza. We're excited to see more inspiration drawn from the manga by Arc System Works as more characters are confirmed. For now, enjoy the following game/manga comparisons: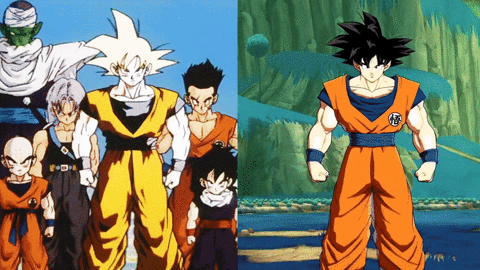 Dragon Ball Fighter Z Related Articles
Dragon Ball FighterZ: Nintendo Switch Version Possible If Demand Is There
Dragon Ball FighterZ Will Have An English Dub Voice Track
Dragon Ball FighterZ: Earns Multiple E3 Awards, Social Mentions, Only 20% Finished
Dragon Ball FighterZ: Producer Talks Ultimate Attacks, Transformation System, More
Dragon Ball FighterZ: New HD Gameplay with English Text
Dragon Ball FighterZ Control Scheme Lists Dragon Dash, Z Assist
Dragon Ball FighterZ: Over 18 Minutes of Gameplay
Dragon Ball FighterZ: Closed Beta This Summer on PS4/Xbox One
Dragon Ball FighterZ: First Official Gameplay Trailer from E3
Dragon Ball Fighters Announced for 2018 on PS4, Xbox One, PC
Dragon Ball FighterZ is a 3-vs-3 team battle fighting game in development by Arc System Works, the same developer as the acclaimed Guilty Gear fighting game franchise. Dragon Ball FighterZ delivers an explosive, action-packed game that combines classic 2D fighting with advanced 3D character models that look and feel as if they are straight out of the Dragon Ball series. It will will incorporate ultra high-speed battles and various flashy moves, including Goku's iconic Kamehameha. Dragon Ball FighterZ will be published by Bandai Namco Entertainment in early 2018.